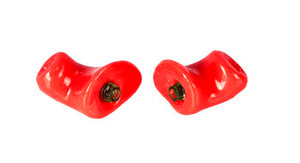 Maximum user comfort, fits under all helmets
Suitable for extended daily use
Unique filter
Available in acrylic with nano-lacquer (hard) or silicone material (soft)
Includes handy storage pouch
Available in 5 different colours, including transparent
CE certified and tested according to EN 352-2
SNR between 21 and 33dB depending on selected material and filter
Pluggerz Custom-Fit Road are great for motor cyclists, Go Kart riders, race drivers and motorsport enthusiasts. The constant sounds from the revving engine and wind noise can cause permanent hearing damage. Pluggerz Custom-Fit Road is designed to protect you against noise damage. The unique filter attenuates the harmful noise to safe levels, while still being able to hear traffic signals and warning devices. The Pluggerz Custom-Fit Road earplug is a perfect fit and can be worn comfortably under a helmet.
Once your order is received we will be in contact to discuss filter and colour options and to arrange an appointment at an Audiologist near you for in ear impressions. 
 The hearing protectors can only work if they are fitted into the ear correctly. Read here how you should do this.