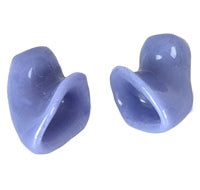 Maximum user comfort (not suitable for side sleepers)
Suitable for extended daily use
Unique filter
Silicone material (soft)
Includes handy storage pouch
Available in 20 different colours, including transparent and fluorescent
CE certified and tested according to EN 352-2
SNR 26dB or 33dB depending on selected filter
Do you suffer from loss of sleep due to noise? Pluggerz Custom-Fit Sleep Traditional provide a comfortable solution. The unique filters help remove background sounds without completely sealing the ear, so that you can still hear your alarm clock and other important noises such as crying babies. Ideal for sleeping in a noisy environment. Made of durable and flexible hypoallergenic silicone material that keeps its shape. 
For side sleepers we advice Pluggerz Custom-Fit Sleep Side Sleeper, made of softer material and hollow shape.
Standard Colour is Transparent, if you would like another colour please see our colour chart and to look at options for required protection see our Attenuation chart. Once your order is received we will be in contact to discuss filter and colour options and to arrange an appointment at an Audiologist near you for in ear impressions. 
The hearing protectors can only work if they are fitted into the ear correctly. Read here how you should do this.